Summer was halfway over, and that meant it was time for MarineParents.com's third Care Package Project™ pack day of 2014! On Saturday, July 19, volunteers from across the country showed their support for our troops by coming to our corporate office in Columbia, MO, to pack and ship care packages to Marines deployed to Afghanistan.
This pack day saw us unveil our newest outreach program, the Warrior Support Team™, a program that combines elements of two of our previous support programs—Purple Heart Hero Support and Combat Recovery—to provide resources, support, fellowship, and social events to wounded, ill, and injured troops and veterans.
Each box contained various food and drink items, as well as other assorted other items, including books, pens, pencils, and various toiletries such as soap, toothbrushes, and toothpaste. Also included were high-electrolyte drink tablets and Frogg Togg cooling towels from our "Beat the Heat Campaign."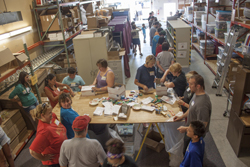 Volunteers came to help from Illinois, Kansas, Kentucky, Michigan, Virginia, and Missouri. Additionally, we had some special guests on hand as Marine Parents board members Sandy, Susan, and Barb, along with a couple of Marines, were present for the festivities.
A number of raffle drawings were held throughout the day to raise money for the new outreach program and after the packing was done, our volunteers enjoyed lunch from Pizza Hut as Marine Parents Founder Tracy Della Vecchia introduced them to the Warrior Support Team and listened as the volunteers provided feedback on ways in which they thought they might want to get involved with the team. As usual, a great time was had by all who attended pack day and before we knew it, the day was coming to an end.
We'd like to thank everyone who has made our pack days so special over the last 10 years and look forward to beginning this new journey together!

Find more photos like this on MarineParents: Marine Family Network (MFN)